Check out this garden room combination we delivered recently!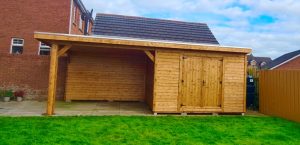 A bespoke design that features a side storage area for all garden furniture/equipment, kids toys & personal belongings with a fantastic extended canopy with decorative support beam to enable outdoor seating or even a hot tub space.
Perfect for a summers day like today!
if you have a free garden space & have been stuck for ideas or need inspiration
Have a look on our website for further products, designs & ideas: aheadinsheds.co.uk
Or for more additional information contact our office on 02890996340 & one of our sales team will help you
Enjoy the weather today from everyone at Ahead in Sheds
Delivered recently in the Portadown area